(this is draft 2 and to be published)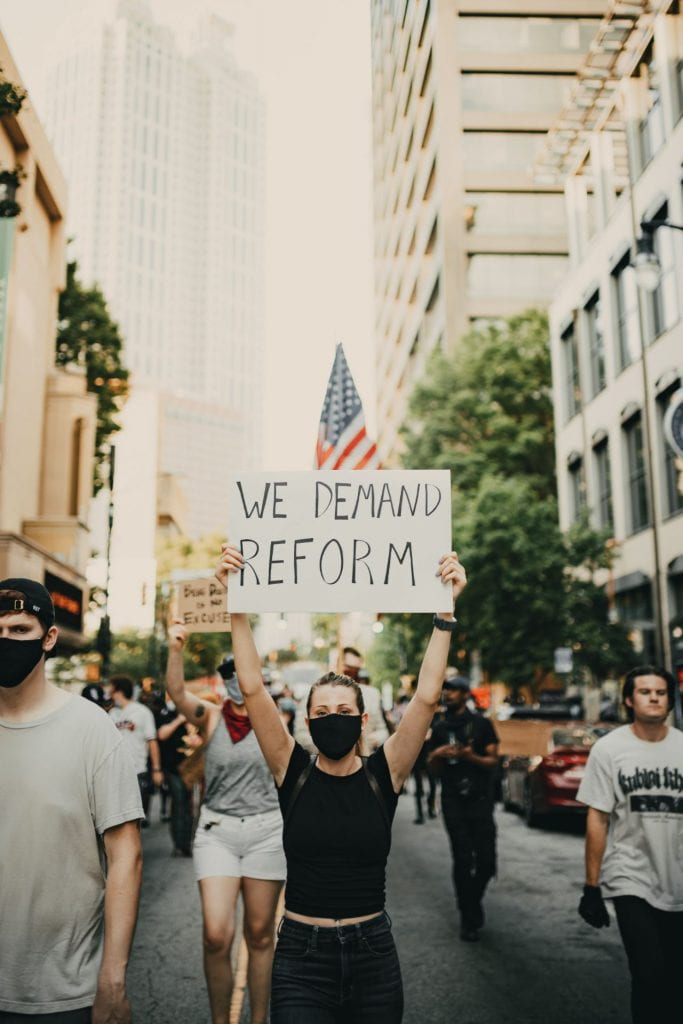 An Authentic Response to Take Action
I was six years old when I first heard how when one points a finger in blame, three fingers inexorably point back. A sort of stepping one foot forward but three back. This is no way is to rebuff the urgency needed in addressing problems and positively effecting minds, hearts, and hands.  The birthing of more fair systems and societies.  But, in doing so, we cannot resort to being six years old.  Instead it behooves us to follow the wisdom of Cathering Pulsifer, "focus on fixing the problem, never focus on the blame. Problems are only resolved when solutions are sought."
The month of June was a wellspring of anger.  In the first week alone, hundreds of thousands of protestors chanted, "No Justice, No Peace," on three continents.  The boiling point surpassed, no more tolerance of or for "the system."  Institutions steeped in societal problems and rooted in inequity. By the middle of the month, the protests only gained momentum, giving no sign of yielding. 
On a more molecular level and within the scope of international education, on June 8 an article titled,"Black Lives Should Have Always Mattered: An Open Letter to Search Associates," caused reverberation.  The sort felt all along one's spine when fingernails drag across slate.  Ironically, even the blackboard replaced by the white board!  The author, Safaa Abdelmagid, was compelled to respond after Search Associates published a letter saying, "we are passionate and determined to continue asking the right questions, joining in the conversations, and striving to be a part of the solution."  Abdelmagid said she felt the words were neither genuine nor sincere.  Instead there appeared, "borrowed, designing and frankly, audacious…They seem to be an afterthought; the reactionary stance of a traditional, predominantly white male organization that is scrambling to jump on the bandwagon."
Abdelmagid proceeded to portray Search Associates in the darkest of lights, punishing with blame,
"For thirty years you have helped white male administrators bounce around
the world exchanging headships, uninterrupted, some with heinous scandals
trailing behind. You stood by watching white privileged teachers getting hired
for being in the same fanbase of a football or hockey team as the head of the
school, or the familiarity of shared white cultures, hometowns and cities.
You have witnessed schools operate as mid-twentieth century colonial schools
in order to keep their local expatriate populations happy…"
Before closing Abdelmagid offers a ray of hope, though embittered by her experience.  She asks Search Associates to start being honest and to acknowledge their shortcomings.  In closing Abdelmagid implores, "Ask for feedback and answers from those who know, those who have been crippled by your lack of responsiveness towards them. Own your privilege and use it to serve those who truly deserve it."
Serendipitously, or not, the international school where I am employed issued a similar statement. The motivation for the titled statement, "The Responsibility of an International School," feels entirely authentic. In the first quarter of the 2019-20 academic year, I remember being a part of a professional development session where the head of school himself spoke from the heart about how we as an institution needed to better understand the experiences of others but also to ensure far greater diversity of our faculty.  With the feel of a manifesto, it reads, "We are committed to adding our voice and to confronting racism, wherever it exists, through education and advocacy." A clear focus upon solutions.
However, within days if not hours, there was backlash.  This time by former students. 
Having taught social studies for over two decades, I am passionate about empowering students to be active and engaged participants and to commit to the ideals of democracy.  Their pointed response a beautiful outpouring of passion.  An honest plea to begin a conversation about how the school might "dismantle systems of oppression that feed into continued racial inequality." A barrage of questions, 17 to be exact, were issued. For example, the second question challenged, "What steps can the school take to move beyond its Eurocentric social and curriculum focus in order to encourage a more diversified understanding of society that does not stem, explicitly or implicitly, from white superiority?"  White superiority?  Eurocentric social and curriculum focus?  If anything, the school is challenged by maintain balance in demographics as a result of privileged host nationals.  As for the curriculum, parents pay a high price for the International Baccalaureate so students, akin to the authors of the letter, are prepared for next steps in the U.K. or the U.S.  Furthermore, how does Chinua Achebe's, "Things Fall Apart" Eurocentric?  If anything, it is diametrically opposite, as students examine the effects of European colonialism from an entirely different perspective. Or, how about "Beloved," Toni Morrison's masterpiece which earned a Pulitzer Prize for Fiction in 1988? I would genuinely be interested in how themes of pain and the psychological effects of slavery, might fall under the claim of such literature being Eurocentric. Nonetheless, student voices are rightly being listened to and we all, as individuals and as an institution, can and need to be better.
While much of the world appears to be unifying in the spirit of creating a more just world, I look on in wonder as countries begin to open their borders to certain nations but not others.  Where I live, the provincial borders slowly lifted but cautiously international borders remain closed.  Yet, there is talk about countries entering into bilateral "travel bubble" agreements on tourism. The local economy severely depressed as a result of lost tourism revenues.  Moreover, amidst the pandemic it is  paramount xenophobia is not allowed to sneak in.  Instead, a surplus of compassion is what the world needs now.  
COVID-19 forced us all to hit the pause button. As we begin to push "play," might our humanity surface, as leaders are poised to make difficult decisions but based in virtue and solidarity. Seldom do the headlines portray China in such a positive light, however a colleague living and working in China shared how the government graciously continued to extend visas under what was called the Chinese Humanitarian Visa.  A 24-hour hotline, in English, also was available to answer any questions. This, but one example of solidarity.
Might 2020 be the nascence of more leadership from the heart.  Passion hangs heavy in the air, as people imagine a tomorrow they long to live in.  Changes bent on solutions, not blame, as  millions get down on bended knee in silent protest.  As if to say, "United we stand," or unabashedly "kneel."  Yet, beyond renunciation or humble reverence, a groundswell of people is rising up, set on creating a fairer world for all.